In modern warehousing and logistics applications, more and more assist equipment and tools are used to help the warehouse operation more convenient and efficient.
Under the background of intelligence, the unattended has become the mainstream operation model for warehouse managers to improve efficiency and save costs. Under the operation of the system, the automatic equipment in the warehouse completes the unloading, transportation, stacking, and other work by itself, involving remote control, information transmission, data processing, etc.
Industry Background
At present, the logistics industry is booming, with tens of thousands of packages produced every day. In order to obtain great advantages in the fierce market, you need to keep up with the market, improve strategy and optimize management. Establish your own warehouses in different regions to be closer to consumers; Intelligently upgrade warehouses are beneficial for efficiency improvement.
At present, warehousing automation including many advanced logistics equipment such as AGV, automatic shelf, automatic access robot, automatic identification, and automatic sorting system, realizing real-time control and management through information technology.

Product Application
As the control center and connection node in the intelligent warehouse system, the touch display equipment is an important part of the intelligent warehouse. It is interdependent with the warehouse management system. At the same time, it needs to have the functions of operation task query, cargo scanning registration, cargo information processing, and transmission to match different specific operation equipment.
In different application scenarios such as AGV, automatic shelf, automatic access robot, and automatic sorting system, intelligent touch display equipment is required to meet the following requirements.
1. Long time stable running
2. High efficient processing capacity, low power consumption, and effective heat dissipation
3. Support wireless communication
4. Anti-vibration, impact resistance, and anti-falling design
5. Flexible installation
Application Expansion
In the intelligent warehouse system, each piece of equipment has its own functional features, and the requirements for intelligent hardware are also different. There are three main products from Touch Think in the application of intelligent warehouse systems, including vehicle-mounted Android all-in-one panel PC, Touch Think 2nd-GEN industrial all-in-one PC, and Touch Think 4th-GEN industrial all-in-one PC.
Touch Think touch control and display equipment features
1. Equipped with a self-developed industrial-grade mainboard, it has high performance, low power consumption, and high scalability to meet application requirements.
2. Industrial-grade quality and reliable performance, IP65-rated protection in terms of dust-proof and waterproof performance for the front panel.
3. Preset multiple interfaces for I/O expansion to meet various multiple application scenarios.
4. Supports functional modules customization, including GPS module, 4G module, RFID card reader and built-in camera, etc.
5. Vibration resistance, anti-falling resistance, and impact resistance, compatible with the warehouse application environments.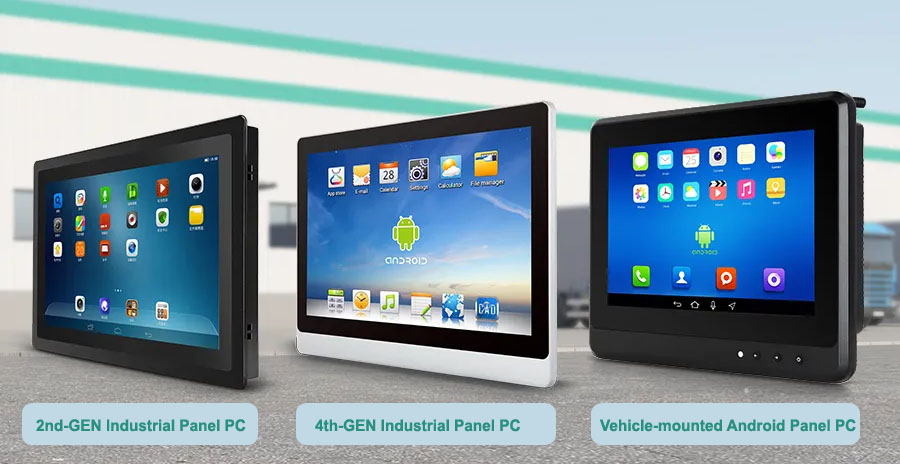 Application Summary
Touch control and display equipment is the key equipment for intelligent and digital warehousing. Improving warehousing operation capacity and accelerating goods circulation are also important measures for the development of the logistics industry.
The Touch Think touch display device can realize the following advantages in the intelligent warehouse: improving work efficiency, effectively control the inventory, safe operation of the unmanned warehouse, synchronous data monitoring, real-time statistics of data, and high information accuracy.