Industry Development Background
A dump truck serves as a vital vehicle in logistics and construction, designed to transport bulk materials like sand, earth, coal, and ore. Featuring hydraulic or mechanical lifting mechanisms for effortless automatic tilting and unloading, this truck significantly boosts efficiency. Its role is crucial in scenarios such as urban infrastructure, engineering mining, and resource development, offering time and labor savings.
In earlier times, enhancing dump truck efficiency primarily involved bolstering power and load capacity. However, with the evolution of global intelligent manufacturing and industrial automation, today's focus is on achieving safer, smarter, and more efficient delivery experiences. This has led to widespread industry adoption of intelligent dump trucks equipped with advanced control and management systems.
Industry Application Requirements
The integration of a vehicle-mounted industrial all-in-one computer plays a pivotal role in advancing the intelligence of dump trucks. This hardware component seamlessly blends software and hardware to imbue dump trucks with smart functionalities like human-computer interaction, data processing, and networking. As dump trucks increasingly move towards automation and unmanned operations, a touch screen can unify sensor control, positioning, scheduling, and operations for efficient integrated management. This underscores the need for a robustly capable vehicle-mounted industrial all-in-one panel PC.
Usually, dump trucks find their primary utility within engineering settings like construction sites, mining quarries, and building roads. These environments are characterized by challenging conditions including high dust levels, airborne debris, rocky terrain, and substantial vibrations. These factors collectively put the stability of vehicle-mounted PCs to the test.

Touch Think Solution
To cater to the unique needs of dump trucks, Touch Think has introduced the S-Series—a dedicated line of industrial display and computing solutions designed for vehicle integration. This product range encompasses vehicle-mounted displays, vehicle-mounted all-in-one panel PCs with ARM architecture, and vehicle-mounted all-in-one panel PCs with X86 architecture. These offerings provide customers with cutting-edge solutions that deliver the following key functional features.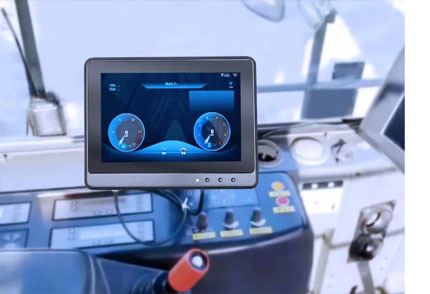 Intuitive Interactive Control
At the heart of the dump truck's operation is the Touch Think S-Series vehicle-mounted all-in-one panel PC. Sporting a 10.1" high-quality industrial control LCD screen, this panel PC adheres to the IP65 dustproof and waterproof standard. It prominently displays up-to-the-minute data, such as vehicle speed, liquid levels, and cargo load, empowering drivers with essential real-time insights. The front of the panel features anti-skid, convex buttons designed to facilitate accurate operations even while the vehicle is in motion.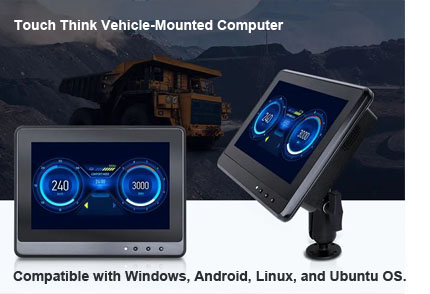 Efficient Data Processing

The Touch Think S-Series vehicle-mounted all-in-one PC is equipped with renowned chips like Intel and Rockchip. This system boasts an integrated multi-core high-performance processor, delivering robust computational power. It offers flexible options with ARM and X86 architectures and is compatible with an array of operating systems including Windows, Android, Linux, and Ubuntu. This versatility extends to supporting Android-based system customization and development, making it adaptable to various industry-specific applications. This enhancement significantly broadens the spectrum of intelligent functionalities for dump trucks.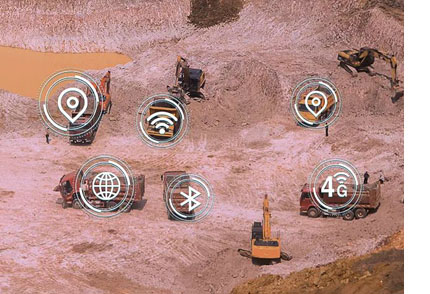 Seamless Connectivity
Dump trucks operate in distinct conditions compared to personal vehicles, necessitating intricate device coordination. The Touch Think S-Series vehicle-mounted panel PC offers comprehensive support for wireless communication technologies, including 3G, 4G, WiFi, and Bluetooth. This capability facilitates seamless connectivity between the vehicle's front and back ends, enabling remote interaction with the vehicle control center. It empowers real-time monitoring of the dump truck's transportation status, location, and other critical information. This real-time insight allows for effective scheduling, operation, and maintenance strategies.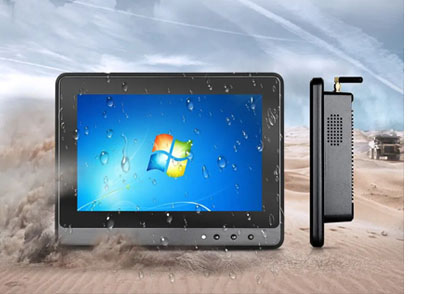 Adapting to Diverse Environments
Touch Think's S-Series in-vehicle panel PCs are meticulously designed for exceptional environmental adaptability. Internally, they feature a precision anti-vibration structure that has successfully passed the rigorous GB2432 anti-vibration test for the entire computer system. Every peripheral interface is equipped with aviation connectors, ensuring secure connections even on rough terrain. The housing is constructed entirely from durable aluminum alloy, featuring a sealed design. Furthermore, the rear cover employs aluminum extrusion for efficient heat dissipation, allowing for extended temperature range operation (with a default range of -10°C to +60°C and customization for wider ranges). In summary, the S-Series vehicle-mounted panel PC guarantees 24/7 stability in demanding conditions, encompassing challenges such as intense dust, robust vibrations, extreme temperatures, and more.
Unlocking Solutions with Touch Think
Touch Think's empowering solutions have gained significant traction. Currently, Touch Think's intelligent S-Series vehicle-mounted products find extensive application in diverse domains including industrial specialized vehicles, high-speed rail trains, inspection vehicles, agricultural equipment, marine vessels, and logistics forklifts. Touch Think's approach revolves around utilizing real-world scenarios to drive technological innovation, enabling a profound understanding of specific needs. This commitment to independent research and development leads to the creation of exceptionally adaptable and pragmatic products and technologies. The result? Tangible resolutions to customer challenges and the delivery of substantial value.