Intelligentialized Transportation
New intelligent turnstile mode improves travel efficiency.
Touch Think industrial fanless box PC, a fan-free embedded mini industrial computer, is mainly used in the main control unit of the automatic check-in gate.
Industry Overview and Demand
Nowadays, "intelligence" has become the mainstream of society, bringing convenience and efficiency to all fields, especially in the field of transportation, such as subway, high-speed rail.
The "intelligence" of high-speed rail brings convenient and more humanized services and more sense of security for the majority of passengers. In the new era, China's railway has made new progress, breakthroughs, and achievements in intelligent construction, intelligent equipment, and intelligent operation. China's high-speed rail, subway, and light rail will gradually form a new pattern of intelligent design.
In recent years, the development of China's high-speed rail, subway, and light rail has increased at an unprecedented speed, and many small and medium-sized cities have realized convenient, fast, and stable means of transportation. The safe, convenient, fast, punctual and environmentally friendly mode of transportation proposed by the country will enter a new reform on high-speed rail, subway, and light rail. The implementation of gate and turnstile check-in mode will become an indispensable and important part of the urban traffic integrated automation system. The embedded industrial control computer of Touch Think is mainly used in the main control unit of the automatic gate and turnstile system.
System Requirements
The gate or turnstile is the only passage connecting the station hall and the platform. When taking a train, a one-way ticket, IC card, or mobile payment code shall be used to scan the electronic sensor of the gate, and the gate will open automatically. After entering the gate, passengers can get down to the platform. When leaving the station, the passenger needs to scan the IC card from the electronic sensor again or use the mobile payment code to scan the two-dimensional code in the optical sensor. At this time, the ticket will be deducted automatically and the gate will open automatically.
The automatic check-in gate system integrates computer technology, information technology, mobile payment technology, electronic technology, and machinery manufacturing, and has a strong artificial intelligence function. It can overcome the inherent shortcomings of the manual fare collection mode, such as slow speed, financial loopholes, high error rate, high labor intensity, etc. it has unparalleled advantages in preventing fake tickets, improving management level, reducing labor intensity, improving efficiency, etc.
Solution
The industrial embedded computer with the fanless design of Touch Think meets the requirements of the hardware standard of an automatic ticket checking system.
1. Fast transmission
In terms of configuration, Intel high-speed chipset is adopted to support up to 8GB of memory, one standard SATA interface, and one m-SATA slot on the board, and the transmission speed rate can reach 3Gb/S. The main control part of the gate is connected with the upper center management computer to transmit the relevant data information to the central computer room, so as to realize a complete set of solutions of automatic charge, automatic settlement, and automatic accounting.
2. It supports connecting multiple devices to realize comprehensive statistics of data
Abundant I/O interface, which is convenient to connect multiple devices in the gate or turnstile system, such as non-contact card reader, alarm device, Metro gate, photoelectric sensor, etc., to realize the comprehensive statistics of data and ensure the timeliness of data.
3. Stable and reliable
Touch Think industrial embedded PC uses a high-reliability aviation plug-in, with a compact structure, reasonable layout, rich interfaces, easy integration, and maintenance. It has unique advantages in configuration flexibility, safety, environmental adaptability, expansion and extension, customer service, etc., and meets the requirements of automatic ticket checking systems for industrial computers in terms of stability, reliability, fluency, etc.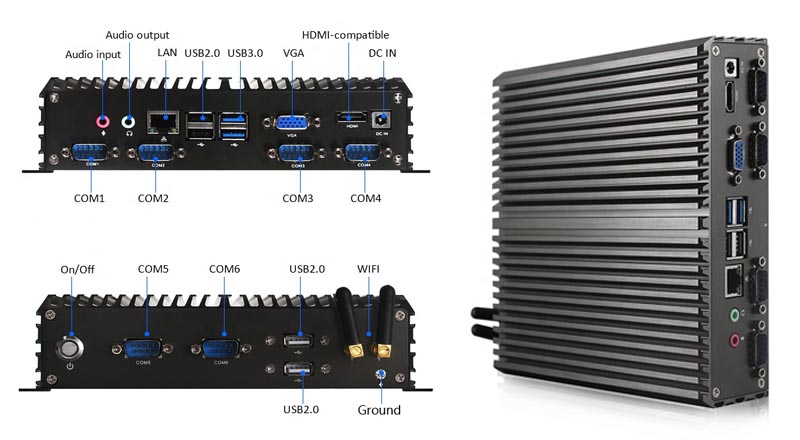 Product technical parameters
1. Intel Celeron J1900, compatible with I3 / i5 / i7 CPU.
2. Supports up to 8GB DDR3 slots.
3. Intel HD 520 Series graphics media accelerator supports VGA + HDMI, synchronous or asynchronous display.
4. 4*USB 2.0, 2*USB 3.0, 6*COM.
5. 1 full-length Mini PCIe (supports PCIe and USB devices).
6. 1 full-length Mini PCIe 1x slot (supporting USB 3G/4G communication module).
7. Support gigabit network cards.
8. Support Windows, Android, Linux platforms.
All products produced by Touch Think have passed the ISO9001, RoHS, CE, CCC, and other related electrical and communication certifications, providing our client with reliable operation.