Industrial monitor is a display device used in industrial control process or equipment. The main difference from commercial displays is the use of materials and some perform features. Industrial display panels are generally made of aluminium alloy/sheet metal, which has the advantages of dust-proof, shock-proof and anti-interference. Industrial LCD panels can run steadily in the environment of -20° ~ +70°C. IP65 dust-proof and waterproof protection level is used in front panel, which can effectively avoid splashing of water drop cause damage to screen.
For the fast-developing Chinese enterprises, the realization of fully production automation is the inevitable trend of development. In the process of realizing industrial automation, industrial liquid crystal display equipment is needed. Then how to choose the suitable industrial display for the production requirements? It is necessary to understand the various performances of industrial displays.
This case is the application of Touch Think customized 12" wall-mounted monitor used in train sleeper compartments. We will make brief introduction for this customized industrial display.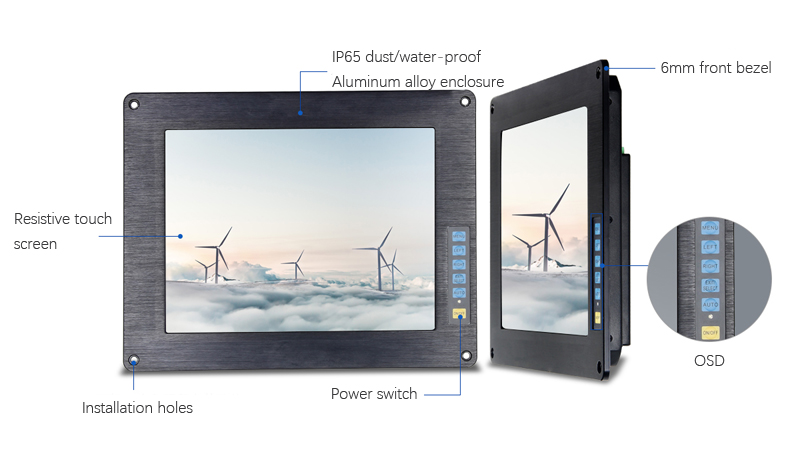 1. Front panel designed with IP65-rated dust-proof and water proof protection grade, aluminum alloy material housing with better performance of heating-dissipation.
2. 6mm front bezel, impact resistance, anti-vibration on trains, more suitable for carriage.
3. OSD, power switch are equipped on the front-panel, easy to operate.
4. Four installation holes are reserved on the four corners of the font frame, monitors can be stable fixed on the train, and it is easy to maintain.
5. Resistance touch screen, anti-magnetic and anti-interference, which improved the Human-Machine Interface experience.
6. RS-232/485 Serial Port device converted to Network Peripheral Device with TCP/IP Network Interface.
7. The input and output ports are designed with anti-reverse insertion and EMC protection measures to adapt to the working environment of trains.
8. DC power interface with built-in power supply and Phoenix terminal interface.