The MES panel PC is an important part of the automation system for the manufacturing enterprise, and it is the key equipment to improve the digital level of the enterprise.
Intelligence and digitalization, as the most prominent signs of the times in the 21st century, have become strategic tools used by major enterprises to pursue a balance between efficiency, cost, and development. Especially in the field of traditional manufacturing, if you want to get rid of the hat of the "low-end industrial chain", you must enter the matrix of digital transformation as soon as possible.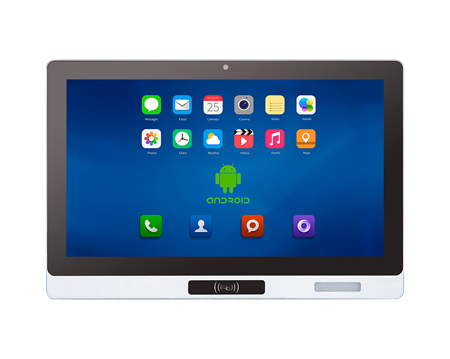 Based on this, Touch Think launched an intelligent productivity tool in early March 2023 that is applicable to multiple fields and assists the digital transformation of manufacturing enterprises - the Touch Think 4th-GEN C-Series Android touch PC based for MES workstation (also named "C-Series MES Android touch PC"). It is equipped with RK3288 high-performance processor and Android operating system, which can smoothly connect to the enterprises' MES platform, grasp production data in real-time, reduce costs and increase efficiency for enterprises, and create value for customers.
The MES panel computer is an important part of the automation equipment of the manufacturing enterprise. In the actual application scenario, the MES panel computer system can make the machine equipment automatically execute the production process, and meet the production requirements for output, efficiency, quality, and safety, and it is the key equipment to improve the digital level for the enterprise.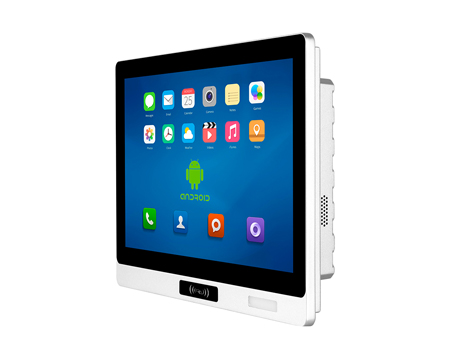 This new C-Series workstation computer from Touch Think has extremely multi-functional attributes and presents the following advantages in the industrial application process.
1. Intelligence
Touch Think C-Series MES workstation panel PC adopts RK3288 Cortex-A17 quad-core high-performance processor with a main frequency of up to 1.8GHz, providing powerful data processing capabilities. It supports an 8G+64G storage combination, provides powerful computing power for data collection, interaction, and processing, and can efficiently connect to enterprises' MES systems to facilitate the overall management of intelligent manufacturing.
This C-Series MES Panel PC also has strong expansion capabilities. It is preset with rich expansion interfaces, which can integrate multiple module applications to form intelligent linkage, realize functional supplements on-site, and provide more possibilities for subsequent application upgrades.
2. Visualization
This C-Series of panel PCs provide four screen size options of 10.1'', 11.6'', 15.6'', and 21.5'', support 1080P high-definition display, support HDMI 4K output, and digitize the vision of the device "state" and machine "language" Conversion to make production data clear at a glance. Supplemented by agile touch response operation, it realizes the smooth interaction of human-machine information and improves the operational efficiency of the production line.
3. Security
In the production process of the production line, this C-Series MES panel PC can collect equipment data in real-time, and quickly access the operation status of equipment, workstations, and processes. Supports identity authentication, authority monitoring, and lighting-up warnings for workstation personnel by the built-in 100W camera, 13.56M card reader, and RGB three-color warning light, all these can assist the production line to find problems in a timely manner, and make quick adjustments to achieve fast and efficient on-site management.
4. High Compatibility
Another highlight of the new C-Series MES panel PC lies in the powerful open-source features of the operating system. It is compatible with Android 7.1/Android 10.0/Linux 4.4 operating systems and includes massive application resources. In order to take into account the unique applications of different enterprises, the C-Series MES panel PCs support the secondary development of software and provide system call interface API reference codes to fully adapt to the personalized software applications of enterprises.
5. Cost-Effective
The C-Series Panel PC is equipped with Gigabit adaptive Ethernet ports, supports 3G/4G, WiFi, Bluetooth 4.0, and other wireless transmissions, presents high-speed data communication capabilities, speeds up the information flow between people and equipment, and between equipment and equipment, and avoids the form Information Isolated Islands, thus can effectively improve the utilization rate and output efficiency of production line machines.
Meanwhile, installing the C-Series MES panel PC can greatly alleviate the high cost and low-efficiency problems caused by traditional manufacturing factories' relying too much on labor. The C-Series panel PC supports performing a 24-hour non-intermittent stable operation, reducing traditional workstation procedures, and thus reducing labor costs.
The new 4th-GEN C-Series MES Android panel PC adopts an aluminum alloy structure and presents a modern technological style. It meets EMI/EMC level anti-interference. Its front panel is designed with IP65-rated dustproof and waterproof and with ESD standard antistatic. It is suitable for all kinds of commercial applications, and harsh industrial environments. What's more, this C-Series Android panel PC is also suitable for smart city fields, such as projects in smart education, smart office, and other scenarios.
Touch Thinking is committed to the practical combination of intelligent hardware and information technology, and insists on independent research, development, and innovation to provide touch display & computing solutions with great application value, and better intelligent upgrades, and better product experience.