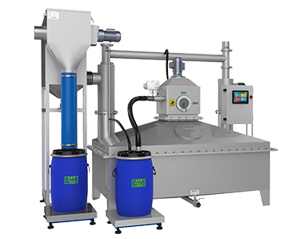 Panda Machinery is one of our clients in field of smart water platform. The integrated equipment for oil-water separation and upgrading is designed and produced by Panda is making great sense in water treatment and environmental protection.
This standard intelligent oil-water separator is equipped with automatic slag remover, automatic mixing, automatic heating, constant temperature and heat preservation functions. The structure design of the equipment changes the traditional integrated structure. The slag removal part, oil-water separation part and sewage lifting part of the equipment are designed as independent modules. Each independent module ensure the smooth flowing in the transportation channel (≥ 850mm). After the equipment located in right place, it can be easily assembled by the rubber hoop. After the assembly, the system connects the water pipes, drainage pipes and air pipes reserved in the equipment room, and can be put into use after being electrified.
Touch Think industrial monitor used in this system mainly playing the role of displaying flow velocity and water pressure data for operators. It support 7/24 long time long-time unattended operation, sunlight readable touch screen is excellent performed in outdoor environments. Front panel is designed with IP65-rating dust-proof and waterproof protection. Realizing interactive operation through human-computer interface for the control system of oil-water separator, and the operation and maintenance are simple.