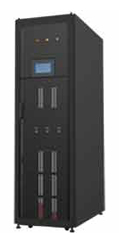 Application
Precision power distribution cabinets are mainly used in small and medium-sized data centers in financial, government, and enterprise industries, network rooms, and communication base stations in telecommunications operations.
How it works
The power supply is divided into several branches through the circuit breaker and the main busbar, which provides safe and stable power to multiple devices, and the power on and off of the equipment can be managed through each branch of circuit breaker, which facilitates equipment maintenance. Besides, it equipped with a power monitoring system for collecting very precise data, and operators will intuitively understand the power supply of each device through the LCD touch screen. And achieve intelligent management of the computer room through the background communication to connect the dynamic ring monitoring network.
Product features
1. Optional fixed or shunt plug-in type, plug-in type can be commutated online, and the switch can be replaced.
2. Configurable LCD man-machine control interface and touch screen device. The front panel of the power distribution cabinet must include the following elements: LCD alphanumeric display screen; LED indicator for system status; necessary function keys (OSD) to choose various system parameters, browse and read various system information,. etc.
3. Humanized design, front panel for operation, front and rear maintenance available, which improves the safety when using the power distribution cabinet.
4. Branch voltage monitoring and sound and light alarm function for power failure.
5. Reliable protective measures: busbar protection and insulation barriers for electric shock parts to ensure safe operation.
6. It has the function of monitoring network composed of software such as upload protocol and site monitoring.
7. Complete system architecture, simple and flexible configuration.
8. The use of high-quality electrical components improves product safety and power quality.
9. The touch screen displays the full power information of the main circuit and branches, providing perfect and reliable power management.
10. C-level lightning protection measures can effectively protect the equipment at the back of the power supply.