The pin tumbler lock assembling machine can identify the key bitting automatically, which is used for the automatic distribution of the marbles, flat marbles, springs and seals. It adopts industrial touch screen display and PLC control system, servo motor, pneumatic components, and equipped with a large number of high-precision detection tools to ensure high efficiency, high density and low failure rate of the equipment.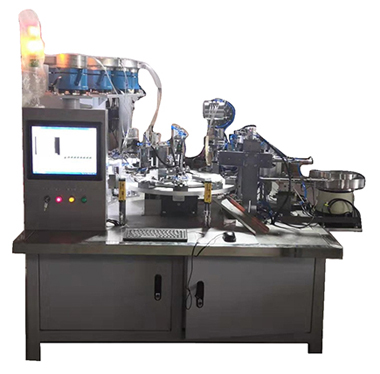 Technical Data
1. Automatic detection of key bitting data, automatic alarm reminder of unqualified key bitting, and automatic deletion.
2. Working beat: adopt ten position turntable assembly mode, with assembly time of 5S for each piece.
3. The equipment is suitable for assembling the lock cylinder within 5 teeth (including 5 teeth);
4. The accuracy range of detecting key bitting is 0-0.5mm, which can be set arbitrarily.
5. Automatic detection of marbles, flat marbles, springs, door blanking, and support automatic alarm when without blanking.
6. Automatic distribution of marbles, flat marbles, springs, door sealing, detection of missing standby marbles lock assembly machine function.
7. Automatic detection of lock body in right place device and clamping function, making the pressing more stable and accurate.
8. It is equipped with high-precision servo motor. The operation accuracy of the spring lock assembly machine is ± 0.03mm, and the compression molding is accurate and efficient for one time.
9. The 15 inch non-touch (mouse control) industrial display screen shows the system fault, which can be easily figure out by the operator, saving time and labor.
We believe that the manufacturing industry in the future is the world of large-scale manufacturing enterprises, and these large-scale manufacturing enterprises will increasingly use automation equipment to meet production needs. When more and more enterprises use automation equipment, the stability of the equipment will become very important. Our responsibility is to design and produce high stability and easy to use industrial display monitors and industrial computers to meet the needs of intelligent manufacturing enterprises.