With the promotion of the "Made in China 2025" strategic policy, the process of popularizing intelligent manufacturing in China has been gradually implemented. More and more intelligent manufacturing demonstration bases have been generated, which has also brought models to many domestic manufacturing enterprises. In the context of intelligent manufacturing, according to public data, the market scale of China's intelligent hardware is expected to reach 1076.7 billion yuan in 2020. Relying on various basic technical support and application scenario expansion, intelligent hardware has become important product in industrial manufacturing consumption.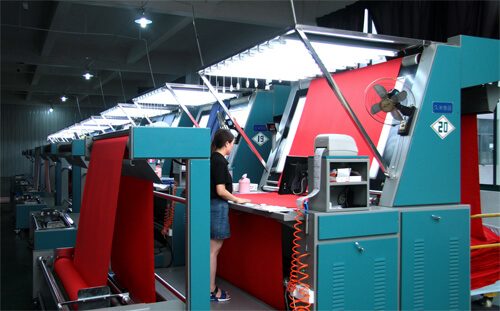 Intellectualization is penetrating into every production link of clothing manufacturing
The introduction of intelligent hardware equipment in manufacturing and production, and the creation of a unique intelligent production system for enterprises, can increase the efficiency of workers by about 30%. Among them, as one of the major industries in manufacturing, the garment industry is gradually integrating "intelligence" into every link of enterprise order, supply chain, production, sales, and service, building a flexible supply chain, using the concept of supply-side structural reform and the means of intelligent manufacturing to realize the transformation and upgrading of China's garment industry.
In clothing manufacturing, it has realized the expansion of application scenarios, such as intelligent typesetting, typesetting, and revision system, intelligent cutting system, intelligent sewing system, intelligent hanging system, intelligent ironing system, and intelligent distribution system. Among them, take the clothing hanging system as an example, it is a production unit or system developed on the basis of automatic equipment and computer technology projects such as numerical control machinery, robot, automatic warehouse, and automatic conveying.
Problems such as unclear production schedule of traditional garment manufacturing, unstable efficiency caused by unbalanced production line, long overtime time of workers, poor quality rate, unclear order production schedule, and difficulty to confirm production delivery date have been effectively solved in intelligent clothing manufacturing.
The touch display device is an effective embodiment of intelligent clothing manufacturing
As an important core of intelligent clothing manufacturing, touch display equipment is widely used in cutting machine tools, fabric detection, production line boards, sewing workbench, and many other scenes. For example, in the production process of sewing workbench, the touch display equipment is installed, and the corresponding production information will be displayed on the flat panel display screen on the worker's seat, to ensure that one person, one garment, one single flow, real-time information transmission, to ensure that the workers accurately define the product requirements and avoid the waste of raw materials.
In the transformation of the clothing manufacturing line, what are the requirements for touch display equipment users? Take an application case of Touch Think intelligence as an example, let's take a look.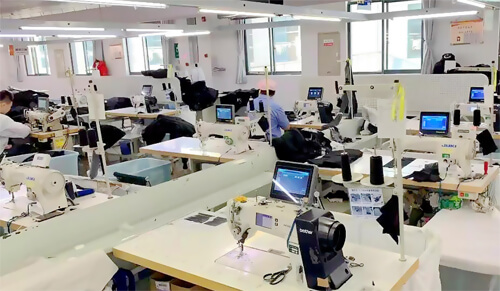 Touch Think product application features:
· In the transformation of the production line, the user chooses the Touch Think 10.1-inch 4th-GEN industrial Android all-in-one tablet PC, mostly in the use scenarios of the embedded cabinet, sewing workbench, etc.
· The thickness of the front panel is 10mm, round arc frame design offering a good touching experience for users. Ultra-thin ultra-narrow frame, small size with a large vision angle, beautiful and safe, not easy to scratch.
· All the hardware parts of the whole tablet PC are made by one-piece die casting, which has a strong sense of industrial science and technology. Fully meet the users' demand and offer perfect cost performance.
· Front panel is designed with industrial-grade IP65 dust-proof and water-proof, satisfy the indoor application, the built-in waterproof strip, which can meet the requirements of multiple dust use scenarios in a clothing manufacturing workshop.
· Capacitive touch screen mode is suitably used in such environments, ten-point touch technology with fast response, and optimizes the operation interface, easy to use.
· Default with Android 6.0 operating system, also supports other versions, and the SDK software development kit can be provided to meet the needs of users' APP and easy for connection of mobile terminals.
· The CPU configuration adopts Allwinner A64 Cortex-A53 quad-core 64-bit, main frequency is up to 1.5GHz, the mainboard is industrial grade quality and with good anti-vibration.
· All Touch Think industrial tablet PCs have past 48-hour aging test, they have stable performance and supports the automatic reset function, which can guarantee the production line to run without fault for 7 * 24h.
· Support a variety of installation methods, such as embedded, desktop, VESA 75, VESA 100, wall-mounted, and other types, to meet the needs of a variety of production line scenarios.
· It supports Ethernet / WiFi, 3G / 4G network connection, and has rich interface functions. DC port adopts an anti-falling design, which is more durable in the workshop environment.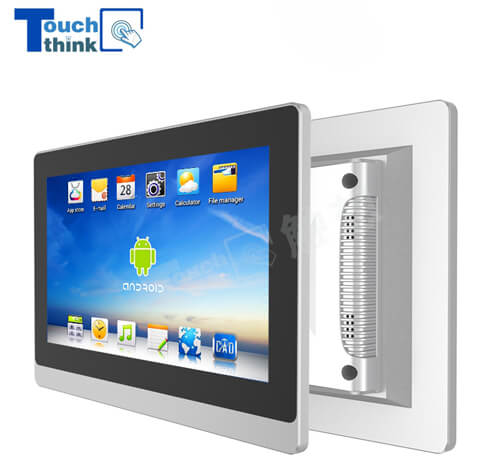 Application benefit
Through the use of touch display equipment in each clothing manufacturing scene, the data of the whole production process from cutting machine to delivery can be grasped in real-time. At the same time, it can return to MES production management system and manage the real-time production progress, production balance, product quality, flow direction of semi-finished products, factory efficiency, worker efficiency, IE operation data, IE data analysis, etc. through data analysis, it not only shortens the auxiliary processing time of clothing manufacturing, greatly improves production efficiency, reduces the defective rate and raw material waste, but also reduces the area of semi-finished products, ensures the quality of products, and reap the dividends of intelligent clothing manufacturing.