Industry Development Background
The manufacturing industry carries the lifeline of a country's economy and is the foundation of the real economy. With the rapid development of information technology and the digital economy, the traditional real economy has been severely injured and needs to be healed. If the manufacturing industry wants to get rid of the old production mode that is hard to return and realize the double improvement of efficiency and benefit, it must accelerate the integration into the wave of digitalization and automation innovation.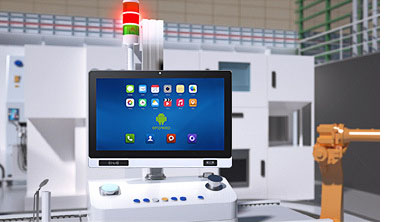 Industry Application Requirements
As an important part of manufacturing management, the digital transformation of the production line is getting more and more attention.
As a visual management tool for the production process, the production lines' workstation terminal devices are widely used in the on-site management of intelligent manufacturing. It helps front-line employees and managers to understand the status of the production line more intuitively and improve production efficiency through the digital and graphical presentation.
However, traditional production lines' workstation terminals mostly use static display devices such as TV walls or LCD screens, which can only provide static information without interactivity, let alone realize data exchange and production collaboration between upstream and downstream processes.
With the mature application of information technology, workstations have become a new type of production lines' workstation terminal equipment.
Touch Think's Workstation Terminals Solution
Touch Think's C Series Android PC workstation is a very typical and widely used production line workstation terminal device. In practical application, it can not only realize the basic display function of workstation Kanban but also have a variety of expansion functions.
Real-time Display
As a real-time information display device for the production line, Touch Think C Series Android PC workstations are equipped with multi-size high-standard industrial LCD screens, support HDMI 4K output, and the front panel is IP65 dustproof and waterproof, adapting to various complex or harsh production line environments. Combined with software applications, it can provide information transmission such as production instructions, material flow, process status, and fault warnings, so as to respond quickly and improve production efficiency and quality.

Touch Think C series workstation Android touch PC adopts a highly technological and aesthetic design appearance, supports a variety of convenient installation methods, and has multiple protection such as wide temperature and wide voltage operation, EMI/EMC anti-interference, GB2423 anti-vibration, etc. It is built with stable performance and powerful functions, widely used in industrial control, military industry, communication, electric power, network, and other automation fields.