Application Background

At present, the electronic product manufacturing industry attaches great importance to production efficiency, especially in the selection of production equipment. In the selection of equipment, there will be high requirements for accessories, especially for accessories that can improve production efficiency, such as spindle. Many manufacturers choose online separators because such a separator can bring them higher efficiency.
Ranges of Application

Online automatic PCB/PCBA separators are widely used in computer digital products, the automotive industry, 3C digital / home appliances, and other industries. They have features of high cutting efficiency, strong stability, high safety, long-term stable use, high quality, and high-cost performance.
The online separator is mostly used together with the loading machine and the blanking equipment. It is fully automatic and can meet the requirements of mass production. If the manufacturer has a very large output, it is recommended to use the online separator. The fully automatic production has high efficiency and no manual operation, which is more safe and convenient.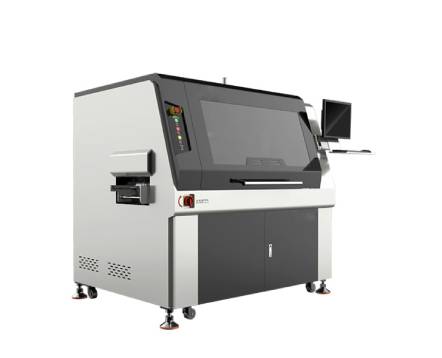 Consist of Automatic PCB Separator
The selection of parts is also very important. For the standard of parts selection, safety and high quality are required to meet the requirements of manufacturers for safe operation and high production efficiency.
The online automatic PCB separator is mainly composed of an identification system, mechanical system, software system, and control system. The control system is mainly composed of high reliability professional industrial touch screen computer, which is usually composed of professional computer host and display output. It is a common industrial all-in-one PC in the field of industrial equipment.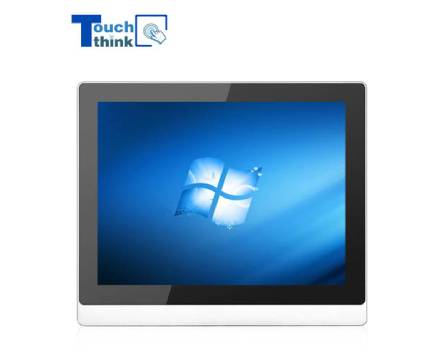 Touch Think Industrial Computing Solutions
Touch Think is committed to providing industrial touch control and display solutions for customers in the global industrial automation field. The specific products include 7-21.5 inch industrial touch display, Android and Windows-based industrial all-in-one panel PC, and industrial tablet PC.
In the application of an online automatic PCB separator, Touch Think 17 / 17.3/19/19.1/21.5 inch industrial panel PCs are often installed on the console of the automatic PCB separator to realize data and graphic visualization, equipment operation, data storage, display, and touch control.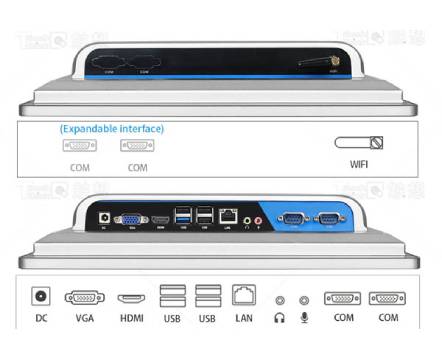 Touch Think Industrial Touch Panel PC Advantages
1. Touch Think industrial panel PCs are designed with a simple, natural, and easy-to-use human-computer interaction panel PC, which integrates touch and control and greatly improves the operators' work efficiency.
2.The appearance design of the whole panel PC follows the principles of fluency, conciseness, clearness, beauty, environmental protection, and generosity, which is in line with the ergonomics design. Offering superior interactivity, convenient and comfortable operation experience for users.
3. The touch panel PC adopts a high-strength aluminum alloy shell design, with explosion-proof, waterproof, dust-proof, anti-magnetic, wear-resistant, anti-static and professional screen printing on the surface of the frame to ensure that the relevant logo will not fade for a long time, and the production process is exquisite.
4.Touch Think 4th-GEN series products, especially suitable for the installation and use of the console of the automatic PCB separator. The thickness of the front panel of 10mm has strong impact resistance, which is very suitable for use in the industrial equipment field.
5.Touch Think industrial all-in-one PC has high stability and supports 24 / 7 uninterrupted operation of the equipment.
6.High scalability: support I/O interface expansion to adapt to a variety of peripheral equipment connections; for example, support MES or ERP connection port, real-time connection to the central database.
7.High stability: adopt an industrial motherboard and shockproof layout structure to ensure its high stability. In addition, the host, LCD, and touch screen of panel PC are integrated all-in-one structures for high stability.
8.For CPU architecture, it supports X86 architecture (not much different from ordinary PC, mainly XP system) and ARM architecture (mainly Android and Linux system).
9.Adopting popular touch screen function, support resistive, capacitive touch screen, or mouse control operation, which simplify the work, more convenient and user-friendly.
10.Touch Think industrial panel PC adopts a fanless design and uses a large area fin-shaped aluminum block to dissipate heat, with less power consumption and noise.
Solution Benefit
The industrial fanless touch panel PC is used as a control system in the automatic PCB separator, which is conducive to its automatic production and labor-saving, online design, and automatic docking line, so as to realize a series of functions such as automatic feeding and cutting. Then, the online automatic PCB separator can shorten the manufacturing cycle of products, help enterprises realize rapid delivery, improve the competitiveness of the enterprise in the market.