As the main direction of manufacturing, intelligent manufacturing is China's strategic choice to adapt to a new round of technological revolution and industrial change, reshape the new advantages of manufacturing development, improve the competitiveness of the international market, and build a manufacturing power. It is of great significance to advance the industry towards the mid-to-high end. As a type of automation products, Industrial Tablet has been widely used in industrial automation, self-service terminals, medical, transportation, power, network, finance, machine vision, and other industries, and will be applied in more intelligent and automation industries.
So how to choose a suitable industrial tablet? The following 8 Inch Rugged Tablet PC suppliers will tell you.
1.Stable performance
In an industrial environment, the stability requirements for Industrial Tablet Computers are extremely demanding. Industrial tablet computers must have a high degree of stability and reliability. An industrial tablet computer with unstable performance not only cannot guarantee the normal operation of the device but also may give Businesses bring economic losses. In addition, stable performance can reduce maintenance costs.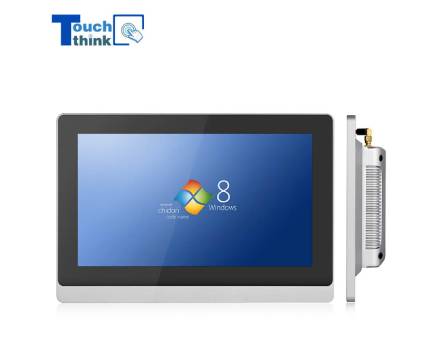 Industrial Panel PC
2. Reasonable configuration and rich expansion
The configuration of a high-performance industrial tablet computer should minimize the situation of small horse-drawn carts or large horse-drawn carts. Any accessory that causes a system bottleneck may restrict the healthy operation of the entire system. Rich expansion functions are also one of the indispensable requirements when selecting an industrial tablet. When considering different applications, multiple options are available for miniPCIe, PCI, and PCIe standard expansion cards. With this flexible design, users can also extend the Fieldbus card to maintain communication between devices.
3. Rugged and durable against extreme environments
Industrial tablet computers are mainly used in complex and extreme operating environments. The device itself is required to have a good three-proof function, which can be waterproof, dustproof and shockproof, and provide users with an IP65-rated waterproof and dustproof front panel.
4.Customizable service
When selecting an industrial tablet PC, even if the standardized tablet PC has an excellent modular design and excellent performance, the user's needs are constantly changing and growing. Sometimes the standard products still can't meet the needs of customers. At this time, professional manufacturers and services are needed to alleviate the problems for customers.
5. Choose a major
The industrial tablet computer has a wide range of applications, involving all aspects of production and life. During the purchase process, a professional industrial tablet computer manufacturer must be selected, and a professional sales consultant assists in completing the selection program of the industrial computer, so that its own funds and products that can be bought can achieve the most reasonable match.
The above is how the Industrial Tablet Manufacturer introduced to you how to choose an industrial tablet computer, I hope to help everyone.