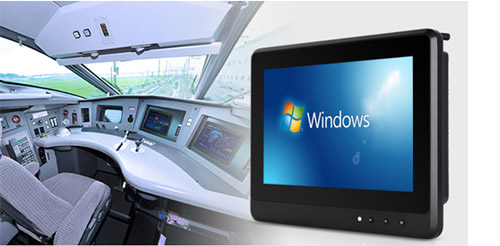 The in-vehicle computer with touch screen is a device based on an intelligent system that is installed on vehicles and regarded as a powerful information-processing center, to realize multi-tasks, including voice navigation, GPS positioning, Internet access. For some heavy-duty vehicles, like mining trucks, high-speed railways, delivery robots, the application environments is very harsh such as high temperature, dusty, strong shock, 7/24hours long time running, etc. the industrial-grade vehicle-mounted touch screen computers are the best choice to fully meet applications requirements.
Touch Think vehicle-mounted panel PCs (in-vehicle touch computers) are designed and professionally built for heavy-duty vehicles. Contact Touch Think and Request The Best Quotation Now for your heavy-duty vehicles.
• Wide temperature operation requirements: Most heavy-duty vehicles are worked in outdoor harsh applications environments, such as mining areas. The temperature environment of vehicles is extreme. It is possible to range from - 30 to +70 ℃, which is a test for the vehicle-mounted industrial panel PCs.
• Electromagnetic interference: The use of special vehicles cannot be limited to electrical equipment, especially railway trains and robots vehicles. Unqualified electromagnetic radiation will cause serious interference to other equipment, such as data transmission radio, high-precision monitoring, etc.
• IP-rated protection: For vehicles in outdoor environments, rain, and dust are inevitable, so qualified vehicle-mounted panel PCs must reach a certain IP rating are necessary conditions.
• Heat dissipation performance: Computers with fans are not recommended for vehicle-mounted applications, because of the dust and wind outdoor environments. Usually, the fanless design is more suitable for industrial-grade panel PCs.
• Anti-vibration: It is no doubt that any vehicle will generate strong or slight vibration during its working. So the in-vehicle panel PC must have excellent shockproof performance.
• Displays: Due to the vehicle is used outdoors, so high brightness monitors are necessary. So high-quality industrial monitor must be sunlight-readable, to offer the operators clear images and displays.
• Installation and maintenance: Considering different vehicle environments, the specific installations are important. For heavy-duty applications, VESA, and 360 degrees rotating ball head stand mounting are popular.