2020 is a hard year for many enterprises due to the impact of the COVID-19, and manufacturing enterprises are no exception. As a global manufacturing center of medical protection materials, China plays an important role in this epidemic. Sinopec, AVIC, BYD, Gree, and other manufacturing leaders rapidly transformed the intelligent production line, becoming important manufacturers for global material support.
At present, with the development of Artificial Intelligence, Cloud Computing, Big Data, Internet of things, and 5G, many traditional manufacturing enterprises are transforming to intelligent manufacturing digital enterprises. It is the main trend that made in China will fully popularize intelligent control in the future.
In such a manufacturing environment, many market segments will usher in huge development opportunities, touch display equipment is one of them. As a touch display center in many industrial sites, touch display equipment is applied in almost all industrial fields. So, for industrial applications, what points do users care about to touch display devices? Let's have a look at it together!
Q: Under the development trend of intelligent manufacturing, what are the changes in the demand for touch display equipment? Which categories do users need more?
A: Driven by intelligent manufacturing, touch display device application market is more extensive than ever before, more and more manufacturing enterprises need intelligent control devices to realize the digital transformation, coupled with the support of national policies on intelligent manufacturing, it will bring considerable economic benefits for touch display devices.
Common industrial application touch display equipment categories mainly include industrial (Android/Windows) all-in-one panel PC (also known as industrial tablet PC, industrial computer), industrial monitor, etc. According to years of experience, Touch Think found that Windows industrial all-in-one computer occupies the largest market share in the industrial field, Android industrial all-in-one tablet PC and industrial embedded mini PC account for the same proportion, while the demand of industrial monitor in the industrial field is not so obvious.

Q: How should touch display equipment manufacturers change in response to the development trend of the system and the change of users' overall solutions?
A: In recent years, with the application upgrading and industrial reform, the growth of single product demand has slowed down, and the demand for overall solutions has gradually increased. Based on the characteristics of industrial intelligent control, and the own development characteristics and actual situation of manufacturers, some touch control and the display device manufacturer have built more and more perfect application solution system to meet the needs of more users.
At present, Touch Think, as the leading industrial panel PC manufacturer in China, has provided more than 100 complete industrial solutions in terms of the intelligent production line, intelligent workshop, CNC machine tool, industrial robot, 3D / LCD machine vision, MES production system, factory display board, instrument detection, intelligent motion control, laser cutting, automatic processing, full-automatic packaging, these solutions are recognized and trusted by many of our customers.
Q: What are the challenges to the performance of touch display application products in the complex and variable environment of industrial applications? Which performance is more concerned by users?
A: In the field of industrial application, the use scenarios of touch display equipment are very complex and changeable, including some harsh environments such as water, dust, and oil stains. This requires that the touch control and display products' quality and performance meet the industrial level use standards.
According to the application experience from Touch Think, the dust-proof and waterproof performance, installation methods, touch-type, CPU configuration, operating system, software compatibility, and external equipment are the main demanding points that industrial users pay much attention to. In different application scenarios, the user's requirements will be different, and the specific performance requirements can only be determined according to the actual application of the user.
Q: In the industry field with fierce market competition, how can touch display manufacturers maintain their competitiveness?
A: Every industry has competition. Only by developing their own characteristics can enterprises have a long-term development in the market. For touch display equipment manufacturers, as the intelligent hardware enterprise, it takes more effort to differentiate. However, Touch Think has been deeply involved in this industry for many years. At present, it has the strength of independent research and development of built-in motherboards, which not only makes the quality of internal components more controllable but also saves costs and makes the products more cost-effective in the market.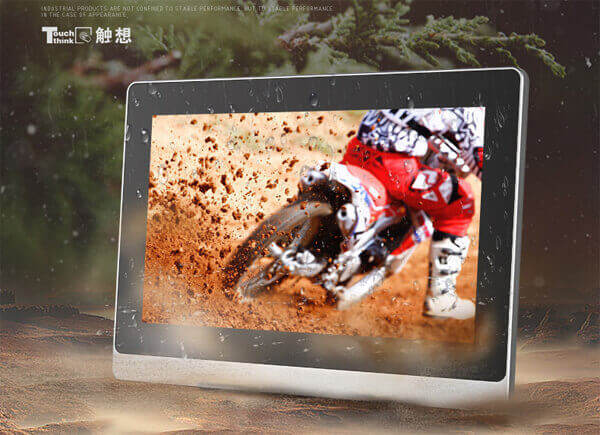 Q: In addition to product performance, in such a large application scenario as industrial environment, how can touch display equipment manufacturers meet user needs in different scenarios?
A: Different from the commercial all-in-one tablet PC, the industrial all-in-one tablet PC not only has better performance in configuration but also provides OEM / ODM customized services according to different users' needs. At present, Touch Think offers four customization services:
1. Customized baseboard: existing core board + customized baseboard (core board passes market verification + acceleration of product time to market + professional technical services + optimization of product cost);
2. Customized core board: customized core board + customized baseboard (customized core board according to customer functional requirements + ensuring system stability + ensuring rapid R & D cycle;
3. Customized integration Board: customized integrated board according to customer's requirements (customized board according to customer's functional requirements + guaranteed system stability + guaranteed rapid R & D cycle);
4. Customized complete PC: customized according to customer's functional requirements (appearance, size, screen, use environment, installation method, startup interface, etc.) + guaranteed system stability + guaranteed launch time.
Q: Based on the application advantages in the industrial field, in which expansion areas will touch display equipment have more obvious application advantages?
A: Through the test of many industrial application scenarios, Touch Think products and solutions have been recognized and trusted by the majority of users, and continue to expand more application areas. Among them, it has obvious advantages in the field of medical application. In addition to intelligent self-service tablets taking terminal, intelligent medicine cabinet, medical device management, intelligent bedside terminal, remote video consultation, medical intelligent mobile cart, ultrasonic color detection, and other applications, it has recently obtained successful cases in temperature measurement robot, nucleic acid detection, and other scenes.
In addition, the demand for touch display equipment in rail transit, smart city, smart access control, Internet of things, service robot, intelligent express cabinet, intelligent warehouse, Internet of things, the commercial self-service terminal is rising.