During the "Two Sessions" in 2020, the Development and Reform Commission promotes the growth of intelligent lockers, also called the express cabinet and other facilities construction industry.
Ning Jizhe, deputy director of the National Development and Reform Commission, introduced a number of measures to stabilize consumption at a press conference on the 24th, including improving the urban and rural logistics distribution system, promoting the construction of intelligent locker and other facilities and resource sharing; optimizing the layout of important nodes in the consumption Network, cultivating a number of international consumption center cities, and building a number of regional consumption centers with strong driving capacity and resource integration advantages.
Comments: in recent years, the receiving and sending end of express delivery is facing rising labor costs. The express locker plays an important role in the delivery efficiency of the "last kilometer" of express delivery. Mingxing of Anxin Securities pointed out that in 2019, the stock size of express lockers is about 330000 groups, and it is expected that in 2025, the incoming rate of express cabinets will increase to 33%, and the stock size of express cabinets will reach 2 million groups. With the end of major operators' self-adjustment and the accelerated layout of express enterprises, the demand for smart express lockers is expected to surge in 2020.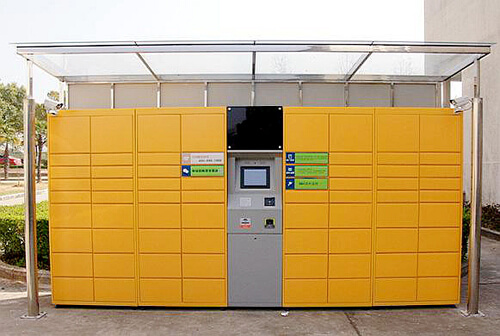 Touch Control & Display Solutions For Smart Parcel Locker
About the development of smart lockers, as early as 2017, China Post Holding Express has officially entered the industry of smart express cabinets; in 2018, Cainiao launched the intelligent cabinet of Cainiao post station; by 2019, JD also launched its own express lockers projects in major cities.
According to the public data, at present, the market share of domestic smart lockers is distributed as follows: Hive Box accounts for about 44%, covering more than 100 cities; China Post Express Mail accounts for about 25%, covering 300 cities; JD's self-delivery lockers cover 26 cities.
It can be predicted that smart lockers have become the field that major E-commerce and logistics companies gradually step into.
At the same time, the mainstream way of online shopping brings about a change in the way of receiving goods. In order to maintain user stickiness and attract new user groups, more and more E-commerce and logistics companies try their best to achieve convenience in service providers. A smart locker is one of the biggest embodiments.
Touch Think industrial Android panel PC promotes the application and popularization of smart lockers
In the demand of the market environment, the development of smart lockers is undoubtedly fast-growing and will be more popular in the future. Then, as the control center of the smart lockers, touch control, and display equipment are bound to usher in another potential application market.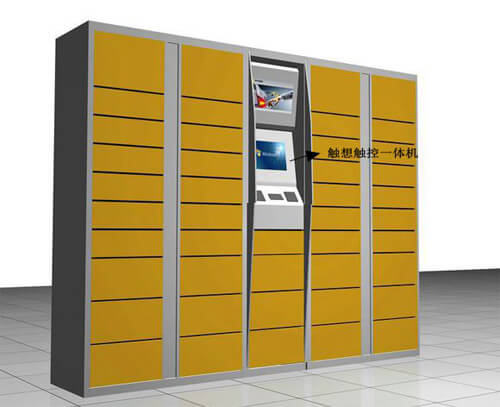 Touch Control & Display Solutions For Smart Parcel Locker
As a professional touch display device manufacturer, Touch Think keeps focusing on industrial intelligent automation applications, and also actively expands more application markets. Based on the competitiveness of its own products, Touch Think has a lot of practical application experience in smart lockers.
Here let's see what users' requirements are for touch display devices in the application of smart lockers!
1) Application product: Touch Think 2nd-GEN industrial Android all-in-one panel PC or industrial Panel PC with Windows system option.
2) Brief Introduction of Touch Think Industrial Android Panel PC For Smart Parcel Locker:
• The industrial all-in-one panel PC is designed with an aluminum alloy enclosure, the true flat front panel is IP65 rating dust-proof and waterproof, and the excellent corrosion resistance performance, suitable for outdoor use for the smart locker equipment.
• The thickness of the front panel is only 3mm, perfect to embed into the smart lockers with seamless design, higher airtightness, and a more beautiful appearance.

• Integrated design, support plug-and-play function, optimized Android operation interface, simple and easy to use, clear, and simple interface.
• Capacitive touch screen with ten-point touch technology, the touch response is more sensitive, better intelligent experience, and no need to wait for the zero-delay of touch for parcel-discharging.
• This industrial panel PC is pre-installed with the Android 6.0 operating system ( Android 5.1 / 7.1 / 9.0 / 10.0 OS for option ), strong software compatibility, offering SDK development kit, and support secondary development, meeting the needs of built-in software of smart lockers, support RFID/NFC scan code verification, face recognition, and other ways to pick up parcels, improve convenience and greatly improve the security of parcels.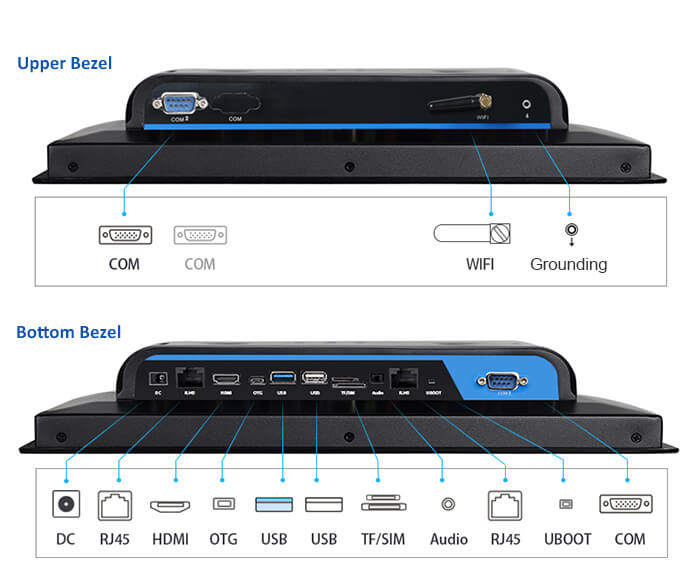 • The standard configuration of the CPU is A64 Cortex-A53 with quad-core 64-bit, independently developed by Touch Think R&D Department, the main frequency is 1.5GHz, stronger stability, and higher cost performance, which is the guarantee for the uninterrupted operation of smart locker for 7 * 24 hours. This tablet PC also supports other Android versions.
• Support HDMI, VGA high definition signal input, higher screen display effect, and the narrow front frame design offers a larger vision.
• The default display brightness of the all-in-one panel PC is 400cd/m2, which can be customized with higher brightness above 400cd/m2. It can also support a built-in light-sensing component. According to the change of external light, the brightness of the screen can be intelligently adjusted, so that the operator can always experience the bright and clear screen display.
• Support ODM/OEM customization services, including appearance, screen, display size, use environment, RFID card, barcode card, ID card, face recognition, and other additional functions customization.