Overview:
A high-speed rail dispatching platform is a data control platform for information gathering and transmission when a high-speed railway is running safely. It uses modern information technology, network technology, control technology, and other technical means to monitor and coordinate orderly and safe operation of high-speed railway.
The application of Touch Think customized dispatching telephone in the high-speed railway platform is embodied in the dispatching telephone. It can use remote signaling and remote technology to realize the contact with the train, and then coordinate the high-speed railway train number, arrival time, arrival track, and other information. Under the condition of ensuring safe driving, it is closely combined with relevant systems, interconnected and shared information, realizing the scientific and modern dispatching of high-speed railway, increasing transport capacity, and improving efficiency.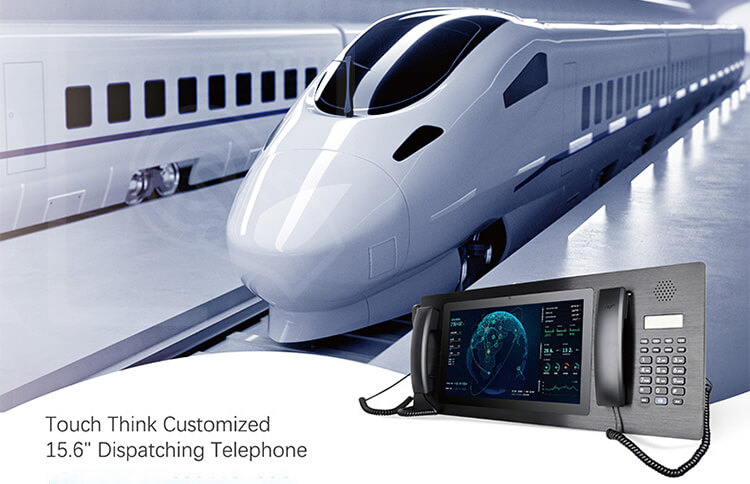 System Requirements:
Dispatching telephone has been an integral part of the high-speed railway dispatching platform. Based on the high-speed railway running data monitored by the whole dispatching platform, the dispatching telephone needs to further optimize the train number, supplement the insufficient train frequency, and deal with emergencies. This requires that the dispatching telephone has strong enough communication ability and can not be interfered with under any circumstances.
In addition, as the operating and dispatching terminals, the dispatching telephone has more other requirements as following:
1. Strong performance, in the condition of extreme weather environments and high-speed trains, the dispatching telephone should quickly get in touch with high-speed rail.
2. Supporting a variety of call modes and can be reserved for the contact plan.
3. It can carry the internet module and synchronize the data display of the platform.
4. It can be set to record incoming and outgoing calls and record manually. During the call, the call button can be used for recording.
5. SDK kit is provided to support the secondary development for staff.
Touch Think Solution Features:
Touch Think designs the customized dispatching telephone meets the requirements of a high-speed railway dispatching platform as the console of the train information sharing center. It has the following features.
1. It equipped with a customized dual telephone receiver and a handheld microphone can be used for hand-held communication.
2. The built-in microphone, built-in speaker, and camera can be used for hands-free and video calls. Various call modes are the basis for timely scheduling.
3. Equipped with a self-developed industrial-grade motherboard, in-depth optimization of the Android system, offering strong system processing capacity.
4. This customized dispatching telephone supports a gigabit Network card, and 3G / 4G module, to ensure multi-tasks realized, such as real-time data sharing, display high-speed rail travel information, the headquarters arrange arrival time, etc.
5. Based on the high configuration performance of the industrial Android all-in-one panel PC, the SDK installation kit is provided for secondary development, which can realize the functions of train operation monitoring, train number automatic tracking, automatic collection for arrival and departure time, and automatic generation of actual train diagram, so as to meet the timeliness and accuracy of high-speed rail train dispatching.
Touch Think Customized Dispatching Telephone Performance
1. The android operating system, equipped with RK3399 mainboard, 4G RAM, and 32G storage capability, the configuration is upgradeable.
2. Customized dual telephone receiver & amp; handheld microphone, which can be used for handheld communication.
3. Built-in microphone, speaker, and camera for hands-free and video calls.
4. Add a dial-up digital button, combined with the software key to ensuring double operation.
5. Equipped with a self-developed industrial motherboard, in-depth optimization of the Android system, realizing synchronous data display.
6. It supports a gigabit network card and 3G / 4G modules to ensure real-time data sharing.
7. Support boot screen modification, and provide SDK motherboard secondary development kit.
8. Support customers' App application expansion, it is convenient for a mobile terminal connection.
9. Support power plug and play function, and support remote wake-up.
Touch Think Customized Dispatching Telephone Touch Panel Basic Parameters
Other Parameters
Panel type
Industrial control panel
Power
Power input: AC 100-240X, 50/60Hz, CCC, CE approved
Backlight type
LED, service life: ≥50000H


Power output: DC12V / 4A
Brightness
300mcd


Max power consumption: ≤35W; standby power consumption:
Display color
16.7M
Plug-and-play
Support

Dot pitch

0.264mm

Product performance
Operation temperature: -10~60°C; -30~80°C is available
Response time
5ms
Storage temperature: -20~70°C
Viewing angle
160° / 160°, 178° full viewing angle is available
Operation humidity: 20%~95% (Relative humidity and no condensation)
Touch screen
Touch screen type: capacitive touch screen
Mean Time Between Failure (MTBF): 7*24H
Service life: any point for touching is ≥ 50 million times
Impact resistance: 10% Acceleration, 11ms cycle
Resolution:
Shockproof: 5-19HZ/1
Input type: finger or capacitance pen
Anti-interference: it is compliance with EMI/EMC standards.
Surface hardness: 7H
Product color
Black / Silver
Calibration: Support
Materials
Aluminum alloy/sheet metal

Summary:

Shenzhen Touch Think Intelligence Co., Ltd. integrates R & D, manufacturing, sales, and service, and has been deeply engaged in the field of industrial intelligent touch display equipment for many years. It is committed to the development of industrial panel PCs, embedded industrial control computers, industrial LCD displays, industrial Android all-in-one panel PCs, industrial motherboards, Android motherboards, drive boards, and also provides artificial intelligence and industrial automation display platforms development and customization services, providing customers with one-stop solutions from appearance design, mold development and standard manufacturing, product production, end-users background support and so on. With the business philosophy of "becoming the leader in the industry of intelligent touch display equipment service provider", Touch Think committed to developing into a professional and international intelligent touch control and display device one-stop solution provider.