With the implementation of strict control policy for the COVID-19 epidemic in China, the number of confirmed cases has been controlled. In addition, the lift of Wuhan's lockdown this early month means China has achieved stage victory in the COVID-19 epidemic prevention. The alleviation of the domestic epidemic does not mean the end of the epidemic. At present, the foreign epidemic is in a critical period, and the global protection work is still continuing.
according to relevant professional psychological experts, the second half of the epidemic will be psychotherapy. In this global disaster, it is necessary to start psychological consultation for the first-line workers who have suffered from stress reactions such as excessive panic and depression, who have lost their relatives, who have been seriously cured, and who have experienced the difficult period during the outbreak stage.
At present, due to the lack of supply of domestic psychological consultants, high cost of private mental illness treatment, inadequate coverage of medical insurance and other imbalanced issues, all of these issues become obstacles for psychological consultation after COVID-19. Therefore, in order to solve this problem, some enterprises have tried to establish auxiliary Network, develop digital diagnosis and treatment tools, and build 2B business model.
Artificial intelligence helps psychotherapy is in progress
Through the combination of artificial intelligence evaluation system and biological collection equipment, the programming design is carried out to build an extensible algorithm platform, which can realize the algorithm development for a variety of mental diseases and cognitive problems, help patients to directly attack their deeper perception, understand the psychological problems, and then take targeted measures for treatment.
At present, this kind of evaluation system has gradually emerged in market. For example, AI depression evaluation system, through the use of objective physiological data collected by EEG, eye movement, skin electricity and other information, is applied to clinical detection of depression, which is different from the judgment of traditional doctors based on subjective experience, and the accuracy rate of judgment can reach 87%.
It can be said that the evaluation of mental diseases and cognitive problems combined with artificial intelligence technology will play a good role in coping with the epidemic psychotherapy, which may also be the new trend of the development of mental health care in the future.
Touch Think applies to AI psychological evaluation system solution
As a professional touch display device manufacturer, Touch Think has accumulated some cases in the application of AI application evaluation system psychotherapy based on rich industry experience summary. Taking the application of AI psychological evaluation system of a customer as an example, as an important data acquisition equipment in the system, industrial grade monitors are more suitable for users' needs than ordinary monitors.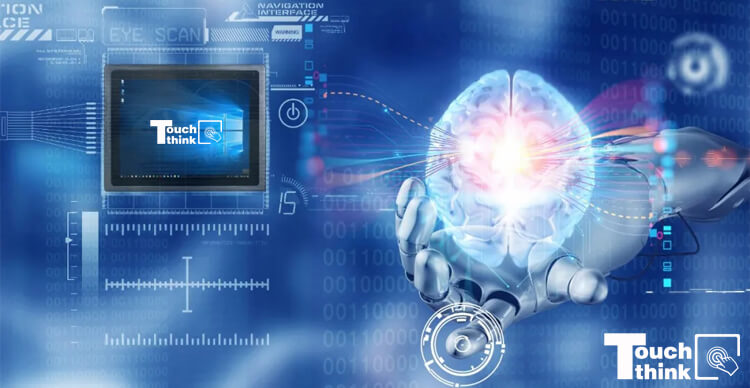 In the AI evaluation system, the industrial monitor is used to collect EEG, facial expression recognition information, eye movement tracking, respiratory data, EMG, GSR and other relevant data of patients through the display screen, so as to assist diagnosis with objective physiological data, which greatly reduces the impact of the inevitable subjective factors in traditional psychotherapy.
By relying on AI and Big Data processing technology, the evaluation system is based on a large number of data operations, making psychological prediction and evaluation more accurate. In addition, in cooperation with domestic medical institutions in the field of mental illness, the symptom calibration provided is more professional; patient data can be stored and archived through the monitor Cloud, which not only provides basis for regular and accurate treatment of patients, but also keeps patients' privacy information safe.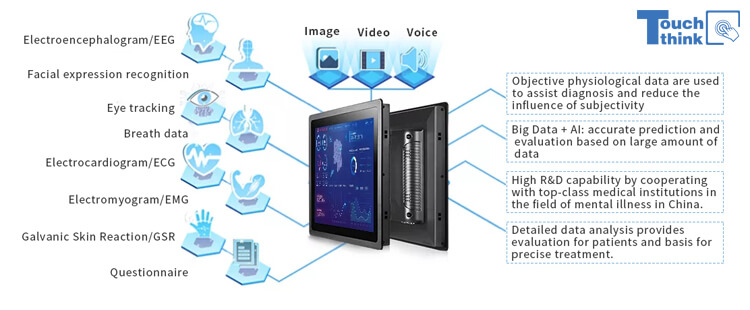 For the use of industrial monitor itself, the display effect will be more high-definition, and the data display will be more intuitive. With ten-point touch screen technology, the touch response will be more sensitive to meet the user's AI using scene's intelligent experience.
At the same time, the product has higher configuration and reliable performance, which can not only ensure the stable and barrier-free operation of the system for 7*24 hours, more intelligent and comprehensive data collection and processing, but also greatly reduce the maintenance cost of equipment, help users to maximize the application value, and also help users save more operating costs.
Future development of AI psychotherapy + industrial display
At present, AI psychotherapy system products have been implemented in education, prison, drug treatment, medical and other related fields. In the future, the system can also be expanded to research and product development of problems such as autism, Alzheimer's disease, schizophrenia, violence tendency, suicide crisis, etc., which is an effective way to promote the development level of psychotherapy in China.
The rapid development of AI psychotherapy also means more application scenarios for touch display manufacturers. Adhering to the principle of helping more fields to realize intelligent application, Touch Think will strive to help more AI psychotherapy system providers, offer more solutions, and boost the level of domestic psychotherapy to a new level.