As the main development direction of the current hospital, intelligent medical service realizes the interaction between patients and doctors, nurses, medical institutions, medical equipment, and gradually achieves hospital informatization by building a regional medical information platform for health records and using the most advanced Internet of things technology. It is in the context of intelligent medical treatment that more and more intelligent devices are gradually applied in various use scenarios in the hospital, including reception, inspection, diagnosis, treatment, prescription and medical order, course record, consultation, transfer, surgery, discharge, medical record generation, and other medical processes. An intelligent system and equipment are being widely used!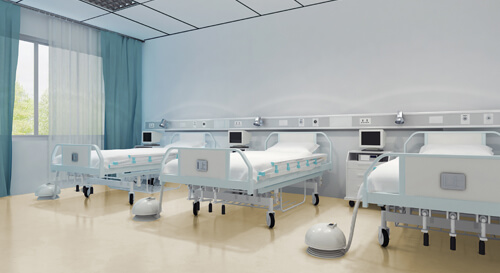 As the main part of the hospital, the ward can not be ignored in information construction. Among them, as an essential process in the ward, escort is also one of the effective ways to improve the service level of the hospital. However, due to the limitations of various conditions, it is common to see such difficulties as the shortage of medical beds, the complicated management of medical beds, the limited space in wards, low sleeping quality for the caregivers, and the complex rental process for medical beds.
How to help the hospital to solve the difficulties and improve the care experience in the hospital? The intelligent bedside care system comes into being. With the application of intelligent Internet of things and mobile Internet technology, combining bedside terminal cabinet with software, nurses can use smartphones to realize multiple operations, such as scanning and check patients' conditions, and a set of intelligent bedside terminal can replace the ordinary bedside cabinet and traditional folding bed.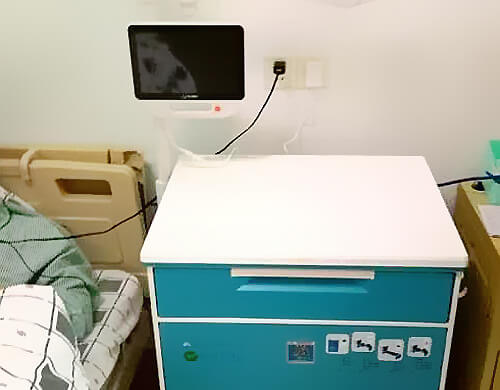 At present, the common types of intelligent medical beds are cabinet intelligent bed, chair intelligent bed, honeycomb intelligent bed, card slot intelligent bed, cabinet separable intelligent bed, password intelligent bed, etc
Touch Think industrial-grade Android panel PC applies to the intelligent bedside terminal solution
In the application of cabinet type and honeycomb type intelligent nursing bed, touch control, and display equipment, as the main intelligent equipment of the point-of-care system, can be used as the main information communication equipment between patients, family members, and doctors, also can display and query the details of patients' diagnosis costs, medication guidelines, and records, etc., what's more, it can be used as the entertainment equipment for patients and nursing staff to watch the hospital health education, live television during the leisure time.
Take the application of Touch Think to an intelligent bedside terminal as an example, let's see what requirements are needed in this system.
1) Application products: Touch Think 4th-GEN industrial Android all-in-one panel PC.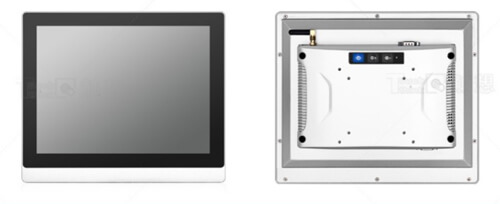 2) Product advantages
1.Industrial aesthetic appearance and built with aluminum alloy enclosure, ultra-thin front panel, stronger corrosion resistance.
2. Fully enclosed fan-free design for heat dissipation, the mute operation is good for patients' recovery.
3. Front panel designed with IP65-rating industrial-grade dust-proof and water-proof, suitable for the use scene of frequent spraying of disinfection water in wards.
4. In this case, our client has chosen the 15-inch display screen, which offers a suitable and comfortable viewing angle for patients. Bue Touch Think also support other screen sizes in the ranges of 7 ~ 21.5 inch to meet various medical scene applications.
5. The touch panel PC is Built-in Andriod 6.0 operating system, provides SDK software development kit, supports the secondary software development of users, it is compatible with many other software APPs, also support the third-party built-in software display such as ward diagnosis and treatment center, bedside payment, medication guide, hospital online shopping, satisfaction survey, service evaluation, etc.
6. Support multi-Network modes, such as WiFi, 3G / 4G module, etc., which can support the ward video display entertainment needs such as electronic bedside card, live TV, hospital rehabilitation education, etc.
7. Support HDMI and VGA high definition video decoding input, with resolution up to 1080P visual experience, to meet the needs of daily video viewing HD image quality display in wards.
8. It adopts the capacitive touch screen mode and ten-point touch technology, which brings more sensitive touch experience; anti-interference meets the EMI / EMC standard and meets the strong electromagnetic interference environment of multiple instruments and equipment in the ward.
9.CPU configuration: A64 Cortex-A53 quad-core 64-bit CPU, main frequency is 1.5GHz. It can run efficiently without jamming, running multiple software pages at the same time without any delay. Besides, it supports CPU configuration upgrade according to different medical equipment needs.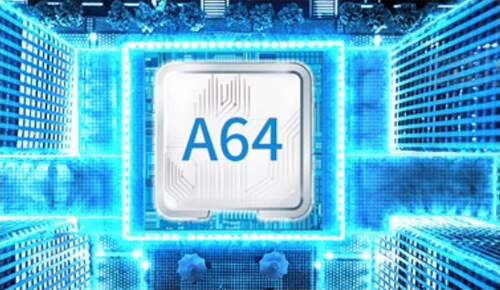 10.Multiple installations available: stand, embedded, desktop, VESA75, VESA100, hanging, wall-mounted, panel mount, etc. While VESA and embedded mounting are popular installations in the bedside terminal system.
11.Touch Think offer OEM/ODM customization services, including appearance design, display size, screen type, high brightness, use environment, functional modules, customer logo, boot interface, I/O ports, and other personalized design.
3) Application benefits
In this application, industrial Android all-in-one panel PC helps medical equipment to reshape the ward experience and nursing mode and creates a hospital exclusive accompany service platform by using information technology, which not only facilitates the patient's family members to query hospital information, bedside online payment, online ordering foods, entertainment services, etc. but also builds an information communication bridge between the doctors and ward, it's convenient for doctors to collect physical signs, information query, risk assessment, and other operations to support the optimization and expansion of hospital IoT ecosystem.
In addition, in the application of the bedside service terminal, the Android panel PC with touch screen helps users to simplify the application process for using the medical bed, brings better rental experience, allows patients' families to have better rest at night, which helps the hospital optimize the detailed service to improve the overall image!
4) Application expansion
At present, Touch Think industrial panel PCs have applies to many application scenarios, such as medical self-service terminal, medical intelligent mobile cart, intelligent electrocardiograph, digital information medical library, intelligent medicine cabinet, remote consultation system, remote ward monitoring, medical instrument control, ultrasonic color detection equipment, etc., which are deeply recognized and trusted by users!