Since the government made an important instruction to stop food waste in August, the "Clear your plate" campaign has become an active response and practice of the people's daily life.
Under the strong advocacy of the government, the "Clear your plate" campaign has been strongly supported and responded to by people, and the phenomenon of "waste on the tip of the tongue" has been improved. Especially, it has played an effective role in curbing the waste of public funds. Although the "Clear your plate" campaign has achieved certain success, the problem of food waste is still serious.
Under the influence of the COVID-19 epidemic situation, the global food supply situation is anxious.
Affected by the COVID-19 epidemic this year, many countries are speeding up the frequency of grain import and export. Some countries, such as Vietnam, Russia, Thailand, and Serbia, some even announced measures to ban or slow down grain exports.
At the same time, under the epidemic situation, global food prices are rising. According to foreign media reports, the latest report of the Food and Agriculture Organization of the United Nations showed that world food prices rose for the fourth consecutive month in September, driven by the strong rise in grain and vegetable oil
Therefore, under the double difficulties of serious food waste and the impact of the epidemic situation, even if China's grain production has been bumper year after year, we still need to maintain a sense of crisis on food security.
So, in such a background, China as a large population and food consumption country, how to deal with such a situation?
According to the data released by the National Bureau of Statistics, China's total grain output in 2019 is 663.84 million tons, an increase of 5.94 million tons compared with that in 2018, an increase of 0.9%. The main reason for the increase in grain yield is the increase in grain yield per unit area. The grain output ranks first in the world. And the grain production has been bumper year after year, with abundant supply. Rice and wheat are fully self-sufficient, and the self-sufficiency rate of grain reaches 95%.
From the above data, we can see that China's grain production and supply can be guaranteed, and how do the grain production and data statistics come from? This is what I want to talk to you here.
Ensure grain production and gradually mechanization of agricultural production
China has set a bottom line of 1.8 billion hectares of arable land, large-scale grain production bases are the main pillar of domestic grain. Recently, intelligent agriculture and unmanned operation have been carried out on many grain production bases. The trend of agricultural mechanization has become unstoppable. The addition of new technologies and equipment will also bring greater security to grain production.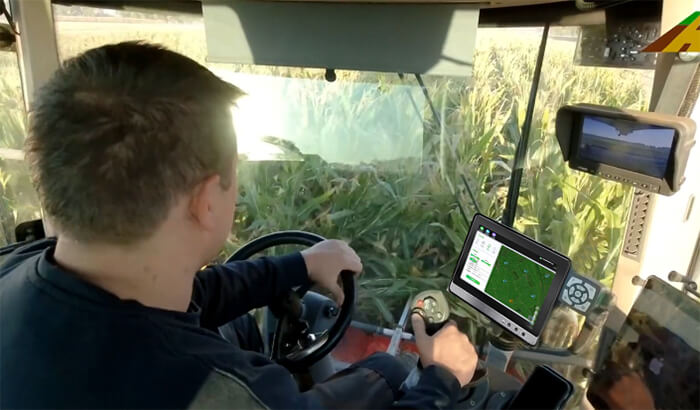 Among all kinds of agricultural vehicles, touch display equipment, as the main equipment of multi-vehicle linkage, vehicle operation status, and real-time monitoring of farmland environment has become popular equipment for agricultural mechanization.
As a leading manufacturer of professional touch display equipment, Touch Think has launched a new vehicle-mounted all-in-one Panel PC with all aluminum alloy shell. The flat panel is IP65 rating waterproof, the back cover is dustproof and the interface is waterproof. The whole panel PC is low-power and compact in shape. It ensures long-term stable operation in the harsh environment, replies to the perfect reliability, environmental adaptability, real-time performance, scalability, and strong EMC compatibility.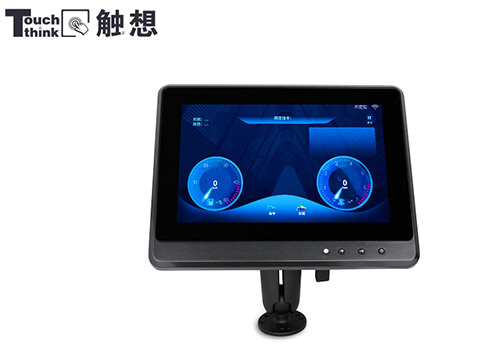 In terms of configuration, this new product has a built-in Android operating system. It adopts the RK3399 six-core ARM self-developed research and development motherboard. The running memory and hard disk storage are 4G + 32G respectively. The overall operation performance is highly stable, which ensures 7 * 24 hours of uninterrupted and stable operation under high load.
In addition, the built-in GPS positioning system, combined with 4G communication Network module function, and internal structure anti-electromagnetic interference layout, ensuring the efficient interconnection between vehicles and avoid unnecessary trouble caused by signal loss.
The interface is equipped with two waterproof COM interfaces and waterproof USB interfaces, which meet the needs of various applications on-site and provide a variety of working efficiency, widely used in vehicle fields, such as mining, military, communication, road construction and transportation, agriculture and other harsh environments.
Intelligent automation equipment is indispensable for collecting accurate food data,
As one of the essential intelligent automation equipment for modern agricultural development, UAV has become a new form of operation, such as spraying, fertilizing, inspecting the growth of crops, and supervising the status of farmland. Besides, in terms of grain data statistics, thanks to the convenience and accuracy of UAV, it is also an important way to ensure the accuracy of current grain data.
In the agricultural UAV operation system, the touch display equipment in the ground remote control box, as the main equipment of UAV real-time screen display, data return, collection, storage, operation command programming and issuing, it is one of the indispensable supporting equipment in the application of many farmland UAVs.

According to the past application experience of Touch Think, UAVs tend to choose small-size industrial Android all-in-one tablet PCs for touch display devices. In addition, in order to meet the needs of the outdoor operation, Touch Think industrial Android all-in-one panel reaches IP65 dust-proof and waterproof standards, providing stable and reliable operation for outdoor users.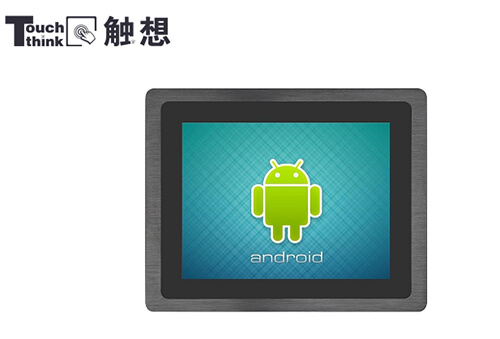 UAV's requirements for industrial Android all-in-one tablet PC
Stable Network connection, support of APP software development, GPS tracking and positioning, data/image speedy return, high-definition image display, capacitive touch intelligent operation, etc.
Compared with the above requirements, Touch Think industrial all-in-one tablets have the following features:
1. Supports WiFi, 3G / 4G / 5G, and Network cable full Networking mode;
2. Built-in Android operating system, and provide the SDK software development kit to users for secondary software development;
3. GPS built-in module can be customized;
4. Industrial-grade components are used inside, provide the whole panel PC with high stability and low power consumption;
5. Corresponding display size corresponds to the corresponding resolution, offering an excellent and clear image;
6. Multiple touch mode for the user's selection;
7. Personalized customized product production is available according to the user's needs.
In summary, in addition to actively practicing the "Clear your plate" campaign, improving agricultural production is also an important way to ensure the food supply. The development of modern agriculture is inseparable from the support of new technologies and various intelligent equipment, which is undoubtedly a promising application field for touch display manufacturers such as Touch Think.
.