With the rapid development of domestic industrial intelligent automation, many manufacturing enterprises have gradually realized that it is an effective way to improve production efficiency and enterprise management to improve the intelligence of main scenes such as factories, workshops, production lines, manufacturing links, and machine tools. The use of more and more intelligent equipment is an important way to realize the intelligent transformation of various manufacturing links.
The domestic manufacturing industry is in the key stage of the integration of information technology and intelligence. It will be the inevitable trend of the future industry development that information technology gradually permeates every link of the manufacturing site. So, in the production line manufacturing process, how to effectively use intelligent manufacturing transfer, fast, accurate, timely access to and transmission of information?
Touch Think offers customized production line display transformation solution
As a leading manufacturer of professional touch display equipment, Touch Think has been deeply involved in the field of industrial intelligent automation for many years and has offered a large number of industrial application cases and successful solutions. Among them, in the workshop/production line transformation scenario with the most obvious demand, we can not only meet the needs of most users with standard series products but also customize products according to the needs of users.
Take the intelligent display transformation application of a customized production line as an example, let's have a look at the user's demand for the industrial touch all-in-one PC.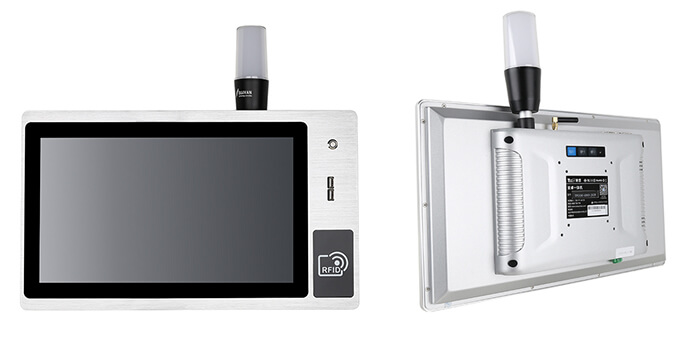 1) Application products: 15.6-inch customized industrial Android all in one panel PC
2) Product application advantages:
·The customized all-in-one panel PC adopts silver aluminum alloy shell design, which is compact and durable.
·The front panel is designed with true flat and IP65-rated dustproof and waterproof protection, which can prevent dust and water from entering and damage the inner components.
·The product has passed the anti-static quality test, and the anti-static (4kv-8kv) meets the industrial standard.
·Customized integrated RFID card reader function, easy to read employee card, identity authentication.
·Customized external alarm lamp design, offering misoperation / abnormal warning, which improves the safety of production line operation.
·USB interface is extended on the front panel, which can be connected with a scanning gun to collect barcode.
·In terms of configuration, the RK3288 industrial-grade motherboard is adopted, which is high efficiency and low power consumption.
·The operating memory and hard disk storage are 2G + 8G respectively, and it can be upgraded to 4G + 32G or other versions.
·Built in the Android operating system and SDK are provided to facilitate users to develop production software/systems.
·Working temperature range of this all-in-one panel PC is - 10 ℃ + 60 ℃, offering customized wide temperature operation, up to - 30 ℃ + 80 ℃.
·Interface configuration is abundant, including USB, WiFi, COM, Gigabit Network card RJ45, etc.
·The whole panel PC has an excellent performance in terms of anti-surge, anti-flame, explosion-proof, anti-interference, and pressure resistance.
3) Application Summary
Touch Think customized industrial all-in-one panel PC supports the use of diversified production line scenarios. It adopts the self-developed RK3399 industrial motherboard to support the secondary software/system development of users, besides, WiFi / 3G /4G full Networking mode realizes the whole process monitoring functions of the production line, such as monitoring production data input, feeding monitoring, feeding traceability, etc. At the same time, it supports GPIO control of production alarm lights, different levels of abnormal alarm remind, through the continuous information flow of the manufacturing line, to realize the full integration of manufacturing enterprise information, and bring more considerable economic benefits for the enterprise.