How to avoid high-temperature overload and maintain stable operation in a high-intensity and full-load industrial application environment is an unavoidable topic for all industrial automation equipment.
Based on this, Touch Think has devoted itself to research and development and eventually launched a new I-Series industrial all-in-one computer in early December.
This series adopts a high-performance motherboard with a fanless mute design. The whole panel PC keeps stable operation in a constant low-temperature environment, achieving a perfect balance between performance and efficacy, which fully meets the needs of high-intensity industrial use, allowing the whole industrial panel PC to release its powerful performance in silence. It is specially designed for high-load industrial application scenarios.
New I-Series industrial tablets in black/silver appearance are available

Industrial Panel PCs with Ultra-thin front bezel for panel mount (embedded mount)

At present, this series of panel PCs provide two appearance designs to generally adapt to various installation scenarios. One is designed with an ultra-thin front bezel, and slim housing, it is suitable for embedded mount [ Panel-Mount ], and the other one is designed with a universal style full of scientific and technological beauty. Both designs are made of all high-pressure Aluminum alloy die casting, presenting multi-protection such as anti-interference and impact resistance. The flat front panel has reached the IP65 dust-proof and waterproof standard. The whole panel PC is integrally die cast, which looks like a solid, rugged armor and protects the core modules of the panel PC to keep stable operation.

Industrial Panel PCs for universal style mount ( VESA, Wall-hanging, Desktop, etc. )
The outstanding highlights of Touch Think's I-Series industrial tablet computer are its high heat dissipation effect and the powerful performance of the motherboard, presenting the features of super heat dissipation, super heat conduction, and super stability. The fanless mute motherboards are developed independently, offering an excellent passive cooling effect. Besides, the aluminum extruded backplane of the back cover can quickly dissipate the heat of the chassis, achieving a constant cooling for 20℃ of the whole panel PC, ensuring that the panel PC can still maintain strong efficiency and stable operation under full load. It is also applicable to various heavy-duty application scenarios.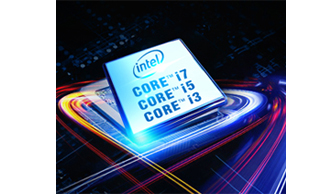 In terms of performance, the I-series industrial panel PCs support Intel® i7/i5/i3 CPU, up to the 10th generation of Core™ i7 processor, it is equipped with a high-capacity and large storage combination of 8GB DDR4 + 128GG SSD, presenting amazing computing capacity, thus you can enjoy a quite smooth operation experience and without stuck. The new I-Series panel PCs support Windows, Ubuntu, and CentOS operating systems, offering high compatibility and adaptability, and presenting the beauty of intelligent and humanized human-computer interaction.
The I-series panel PCs have high-speed Network communication and data transmission capabilities, support adaptive dual Gigabit Ethernet and support WiFi 2.4G/5G. What's more, the I-series integrates abundant expandable interfaces, supports USB 2.0/3.0, and offers a convenient experience of connecting multi-peripheral components, thus realizing unlimited possibilities for application expansion.
In terms of safety, as a high-performance industrial all-in-one computer, I-Series has multiple protection mechanisms and high environmental adaptability. Support 12V-36V wide voltage input for a wider application range. I-Series is engineered with high and low temperature resistant [ -10℃ to +60℃], so keeps highly reliable running in extreme temperature environments. Besides, I-Series panel PCs are built with industrial-grade anti-static, GB2423 standard vibration resistant, and EMI/EMC level anti-interference capabilities to fully ensure stable operation in complex environments.
All Touch Think's products adopt self-developed rugged industrial motherboards, with strong technical endorsement, reliable brand components, and full & regular tests and inspections before shipping to provide highly praised high-quality, safe and durable products. In addition, Touch Think provides customers with massive customization services, including screen performance, functions, system/software, appearance, logo, installation method, and other customization, to meet multi-dimensional product planning needs.
Touch Think's I-Series industrial tablet computer is designed for high-load application scenarios. It will be widely used in intelligent manufacturing, smart cities, intelligence commercial terminals, the Internet of Things, artificial intelligence, and other fields, and continue to help build an intelligent ecosystem of the Internet of Things.