The industrial all-in-one panel PC comes with touch and display, saying goodbye to the traditional external display, keyboard and mouse input devices, with integrated design, beautiful appearance, wide application and easy installation and maintenance. It is more durable, dustproof and waterproof than ordinary flat panel, and more resistant to fall. In the era of Industry 4.0, industrial tablet PC has many new application scenarios, which TOUCHTHINK introduces for you.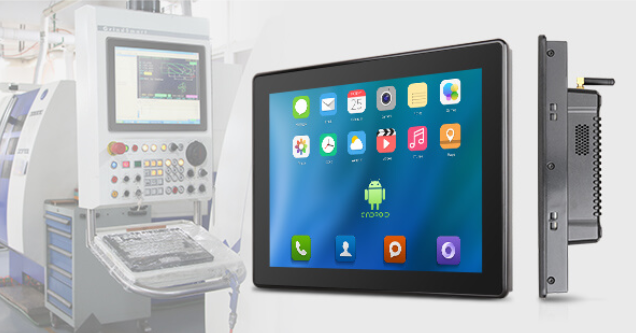 Self-service devices
Smart library is the trend and development of national reading, using information technology and RFID Internet of Things technology to achieve 24-hour opening, unattended and reader self-service, extending the effectiveness of library services in time and space. The self-service book lending and returning equipment is oriented to the business needs of libraries and realizes business automation functions such as interviewing, cataloging, circulation, continuous publication management and online library.
The industrial tablet PC all-in-one machine seamlessly connects with external devices through rich IO interfaces, and scans the RFID code and ISBN code of book films through over RFID technology to complete the lending and returning operations quickly and accurately. In addition to this there are many self-service card, self-service query, self-service storage, etc. can be used.
MES traceability system
With the popular application of big data and cloud computing, manufacturing companies need to enhance and improve various aspects such as product recall, quality improvement and cost reduction. One of the very important points is the need to obtain various traceability data in the production process of the enterprise. Traceability is an important feature of MES system. Traceability management can not only record the production process data completely, but also extend to quality traceability, procurement traceability, etc., which is of great significance to the enterprise manufacturing process control and manufacturing process improvement.
As the core equipment of MES data collection and analysis, the industrial panel PC all-in-one computer ensures the safe and reliable operation of each production equipment by setting user access rights, thus meeting the real-time monitoring and comprehensive demand of its production process.
Intelligent medical care
Smart medical is to provide a full set of core hospital business systems, regional health and personal health management of the integrated smart medical overall solutions. The current construction of smart hospitals is divided into three main areas.
The first is the "smart medical" for medical staff, the core information construction, including the interconnection of electronic medical records and imaging test results.
The second area is "smart services" for patients, including printers in hospital outpatient halls, X-ray printers, and the hospital's implementation of appointment information, all for the convenience of patients.
The third area is for the hospital management "intelligent management", such as HIS system, HRP system, material management system, drug supplies test management system, etc..
As the window of human-machine interaction of various self-service terminals in the new era, industrial panel PC can quickly respond to various needs of users. You can check the "Solutions" page of our website to find out more.
TOUCHTHINK is a professional industrial panel PC manufacturer, we provide complete manufacturing and after-sales service, you are welcome to send us information to consult.