As the birthplace of new technology, scientific research has always been highly valued by many countries. In the research laboratory, all kinds of auxiliary equipment as a powerful assistant of scientific research workers, as a variety of high-precision experimental work. For example, scanning electron microscope (SEM) is indispensable in the research fields of material analysis, medicine, and chemistry, and this kind of equipment can also be positioned as re-manufacturing laboratory equipment.
The working principle of SEM is that the electron beam is used as the excitation source, and the electron beam is used to impact the surface of the sample to generate various signals for image observation, composition analysis, and other materials research work. Therefore, SEM is widely used in geotechnical, graphite, ceramics, nanomaterials, and so on, and plays an important role in the field of material science.
The SEM is generally composed of a vacuum system, an electron gun, an electron optical system, a sample bin, shock resistant and electric control system, PC, workbench, and other main units. The PC terminal, as the main equipment for digital display, image display, and data analysis, is an important part of SEM.
Touch Tink offers industrial LCD display solution for the scanning electron microscope field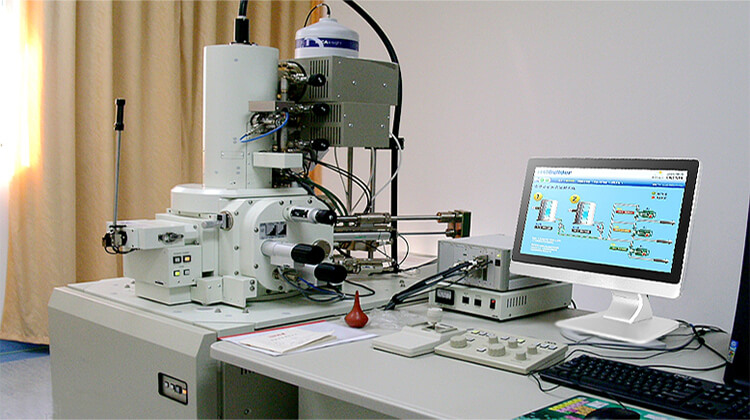 Therefore, in this kind of research laboratory, the industrial all-in-one computer is more favored by users. In general, the Materials Research Institute will undertake material analysis, non-destructive testing, coating testing, surface forming processing, and other re-production tests, with high precision. According to the application experience of Touch Think, the solution of connecting an industrial monitor with an industrial PC is more suitable for laboratory scenarios.
So, in the research laboratory, in the use of precision instruments such as scanning electron microscopy, what conditions need to be met for industrial displays to meet the user's requirements?
1) Application product: Touch Think 19-inch 4th-GEN industrial LCD flat panel display.
2) Product advantages:
·The body of this 4th-GEN industrial display is made of aluminum alloy, which has a high-end texture and can be perfectly matched with the laboratory scene.
·The front panel is up to IP65 industrial grade dustproof and waterproof, and the panel structure has excellent protection, effectively prolonging its service life.
·In the laboratory scene, users tend to choose the resistance touch mode, which is more convenient to operate.
·This industrial monitor adopts industrial liquid crystal screen, true flat panel, and narrow frame structure design, which makes the view angle wider, which is beneficial for researchers to observe data and images in the lab.
·Adopting LED light source technology, this monitor has a longer service life, stronger color restoration, brightness, contrast and so on. Different sizes achieve the best resolution display, which meets the needs of laboratory image display.
·In terms of installation methods, in this scanning electron microscope application, the industrial monitor mostly adopts the desktop bracket installation mode, in other applications, it supports various installation methods such as wall hanging, VESA, embedded, panel mount, open frame, etc.
·This Touch Think flat-panel monitor adopts a self-developed industrial driver board, which can be connected with an industrial computer and is suitable for the application with the control system in the laboratory.
·For the interface setting, it can be connected with the mouse, keyboard, printer, and other equipment to meet the diversified needs in the laboratory.
3) Application expansion
In the laboratory field, the industrial panel PC can also expand the re-manufacturing equipment such as spectrometer, energy spectrometer, electro-hydraulic servo universal testing machine, impact testing machine, eddy current detector, ultrasonic detector, magnetic particle flaw detector, etc.